FIFA: Time to Compensate Migrant Workers in Qatar is an Amnesty International's campaign aimed at compensating the migrant workers who suffered during the construction of the stadium for the 2022 FIFA World Cup. I was involved in a design project in relation to this campaign, Goalissimo, which supports the same cause.

#1 🇲🇽Mexico: Hola Lou

#2 🏴󠁧󠁢󠁥󠁮󠁧󠁿England: Kelly Anna London

#3 🇺🇸USA: Vlad Sepetov

#4 🇧🇷Brazil: Monga

#5 🇨🇲Cameroon: Sophie Douala

#6 🇦🇷Argentina: Sebastian Curi × Macarena Luzi

#7 🇳🇱Netherlands: We Are Out of Office

#8 🇧🇪Belgium: Specht Studio

#9 🇩🇪Germany: Eike König

#10 🇫🇷France: Marylou Faure

#11 🇰🇷South Korea: Jaemin Lee
On the bench 🇮🇪Ireland: Gav Connell

and
⚽Hen's Teeth World Cup Ball: Triangle Studios

🧣Goalissimo Scarf: Yeye Weller
Organized by
Hen's Teeth
Produced by
Vulfco
Photo:
Kate Lawlor
Goalissimo, curated by Dublin's creative group Hen's Teeth, invited designers and illustrators from 13 participating countries in the Qatar World Cup to design a soccer jersey, that represents their country. Produced by British apparel maker Vulfco, the series of jerseys will be on sale onHen's Teeth's website from 3 to 17 December, with all proceeds going to support Amnesty International's campaign.

This World Cup was marred by reports of human rights abuses and inhumane treatment of migrant workers who built its eight stadiums. According to the Guardian, more than 6,500 migrant workers died in Qatar in the past 10 years. The Qatari government and FIFA are still silent on this issue.

Despite this unspeakably bleak situation, my uniform design tries to contain the message of solidarity and positivity per se, which is the original intention of sports. I tried to find a new and interesting way to use the formative elements of Taegeukgi, the national flag of Korea, but at the same time, trying to make that not obvious. Red, which is a color traditionally used by the Korean team, was used as the main color. Such was combined with the complementary color blue and incorporated into an optical pattern, which gives an aggressive sense of speed. This pattern was laid out in an inverted triangle structure to match the location of the pectoralis major muscle, so that a stronger sense of assertiveness can be revealed. The uniform number on the back is constructed by drawings of the four trigrams (Geon, Gon, Gam, and Ri) of the Taegeukgi, and the Crest badge is created by reinterpreting the Yin Yang symbol, which is the core of the Taegeuk symbol.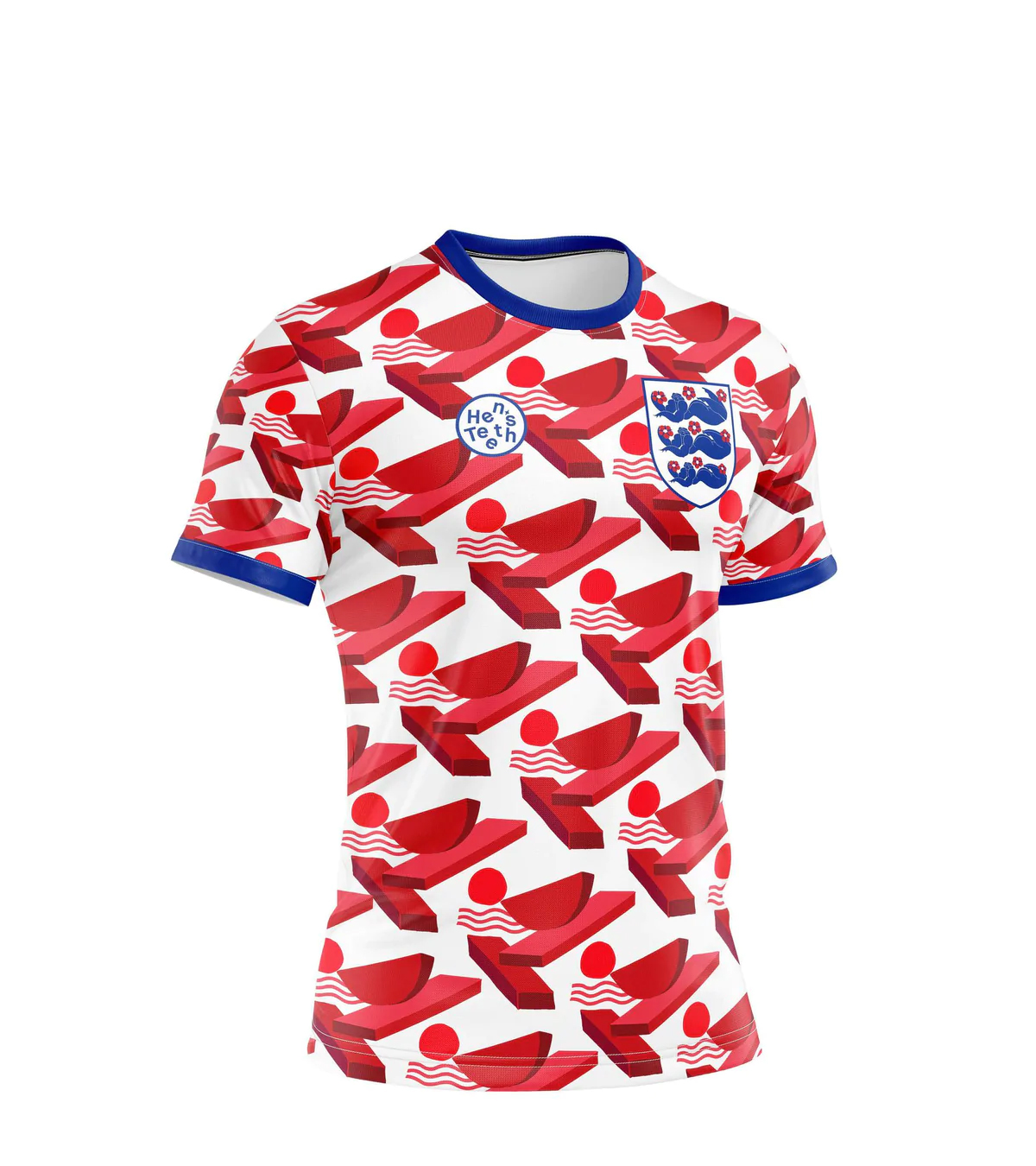 ---