Typojanchi 2021: International Typography Biennale, A Turtle and a Crane
Catalog, website

Typojanchi: The International Typography Biennale is an international design event that is hosted by the Ministry of Culture, Sports and Tourism and supervised by the Korea Craft & Design Foundation. Typojanchi was first held in 2001, and it was the only international event under the theme of typography at the time, so it was well-received at home and abroad.
The theme of each Typojanchi is determined in a format where typography invites and collaborates with various aspects of society and culture, such as literature, music, politics, economy, city, and environment. The theme of Typojanchi was Typography and Literature in 2013, Typography and City in 2015, Typography and Body in 2017, Typography and Object in 2019. The theme of Typojanchi 2021 is Typography (文字) and Life (生命).
Art direction: Jaemin Lee
Illustration:
Miki Kim
Graphic design: Typojanchi 2021 team
Catalog design:
Workroom
(
Hyunsun You
)
Website: Workroom (Hyunsun You,
Guhong Min
)
Client: KCDF (Korea Craft & Design Foundation)
Year: August — October, 2021
As the director of Typojanchi 2021, I tried to incorporate in the composition and exhibited works, the
ideology of the five elements (五行) of the Orient
and the human desires that stem from it. It is true that many design-related exhibitions have often been held under the perspective and influence of the West. However, I wanted to pay attention to the typographical activities that took place here in Asia and worked hard to reflect these nuances in the designs for the exhibition.
The name of Typojanchi 2021
A turtle and a Crane
was taken from the longest human name in the world, 'Kim Suhanmoo Keobugiwa (a turtle) Durumi (a crane) Samcheongabja Dongbangsak Chichigapo Sarisarisaenta Woriwori Saepeurikang Moodoosella Gureumi Hurricane Dambyeorak Seosaengwonae Goyangyi Badookineun Doldolri.' (This name became famous through a comedy show in the mid-1970s on
TBC
in Korea). I figured that this name would be able to convey Typojanchi's exhibition universe that forms its framework, in a concise and attractive way.
In East Asia,
turtles (龜) and cranes (鶴) are considered noble, represent longevity, and have been used as icons in many paintings
. The turtle and crane illustrations for this exhibition were created by the tattooist and illustrator, Miki Kim. I wanted to borrow one's experience of having drawn on a human body (living life). She illustrated an impressive, grotesque, yet intriguing artwork that combines human limbs on animal bodies, while incorporating traditional visual expressions commonly seen in oriental folk tales. Black and heavy characters and letters, which is another significant element of the exhibition's graphic identity, are reminiscent of hand-written letters using a brush soaked in ink, at the same time as it is a digital font. Hangul, Chinese characters, and the Roman alphabet are all used in the branded materials on various media across paper and screen, but Hangul and Chinese characters are the main focus. Compared to the Roman alphabet, which is regulated to flow only from left to right, I wanted to take advantage of the characteristic of East Asian languages being more free in terms of the direction in which they read.
The design of poster, website and exhibition catalog were inspired by the proportions of a turtle (wide) and a crane (long), and they were implemented into a grid system that contains and aligns various content. Through a dynamically configurable website, users can unhurriedly browse the information in one wide column 'Like a Slow Turtle' or view it at a glance in up to six long columns, 'Like a Quick Crane.' In the exhibition catalog, a heavy, horizontal grid is applied to the body of text that talks about the exhibition structure, and an agile and fluid vertical grid is applied to the body of text that talks about the artist and their work. The individual pieces of the title, typeset in
Dunkel Sans
, represent the human desire of wishing for longevity and good fortune, and also the desire to leave behind a name after they pass. Such treatment of the title is used as a menu in the form of an amulet on the landing page of the exhibition website, or as running titles appearing on almost all the spreads of the catalog, leaving behind a feeling of aspiration. This is also reflected in the logo of Typojanchi, embroidered on the cover.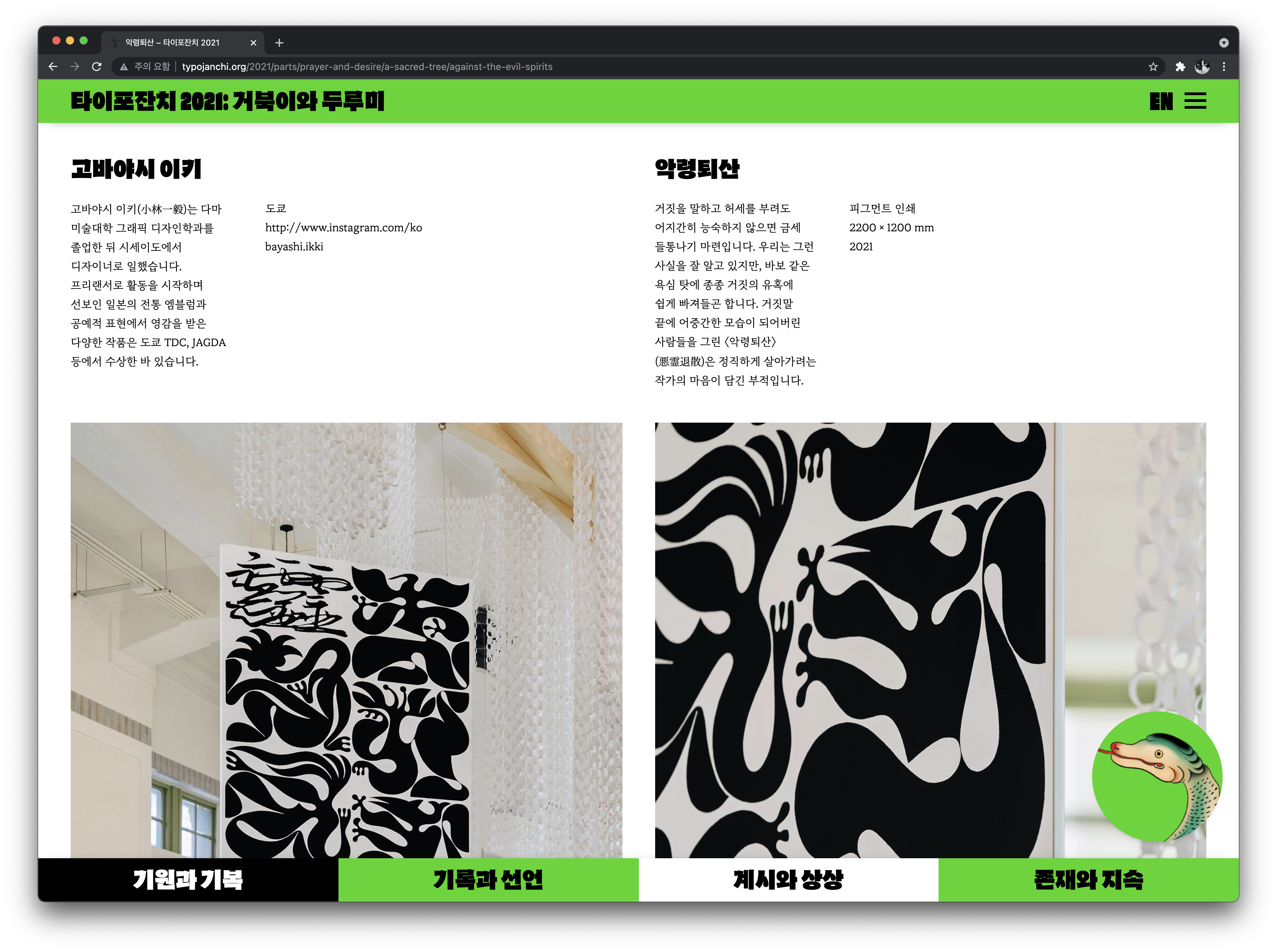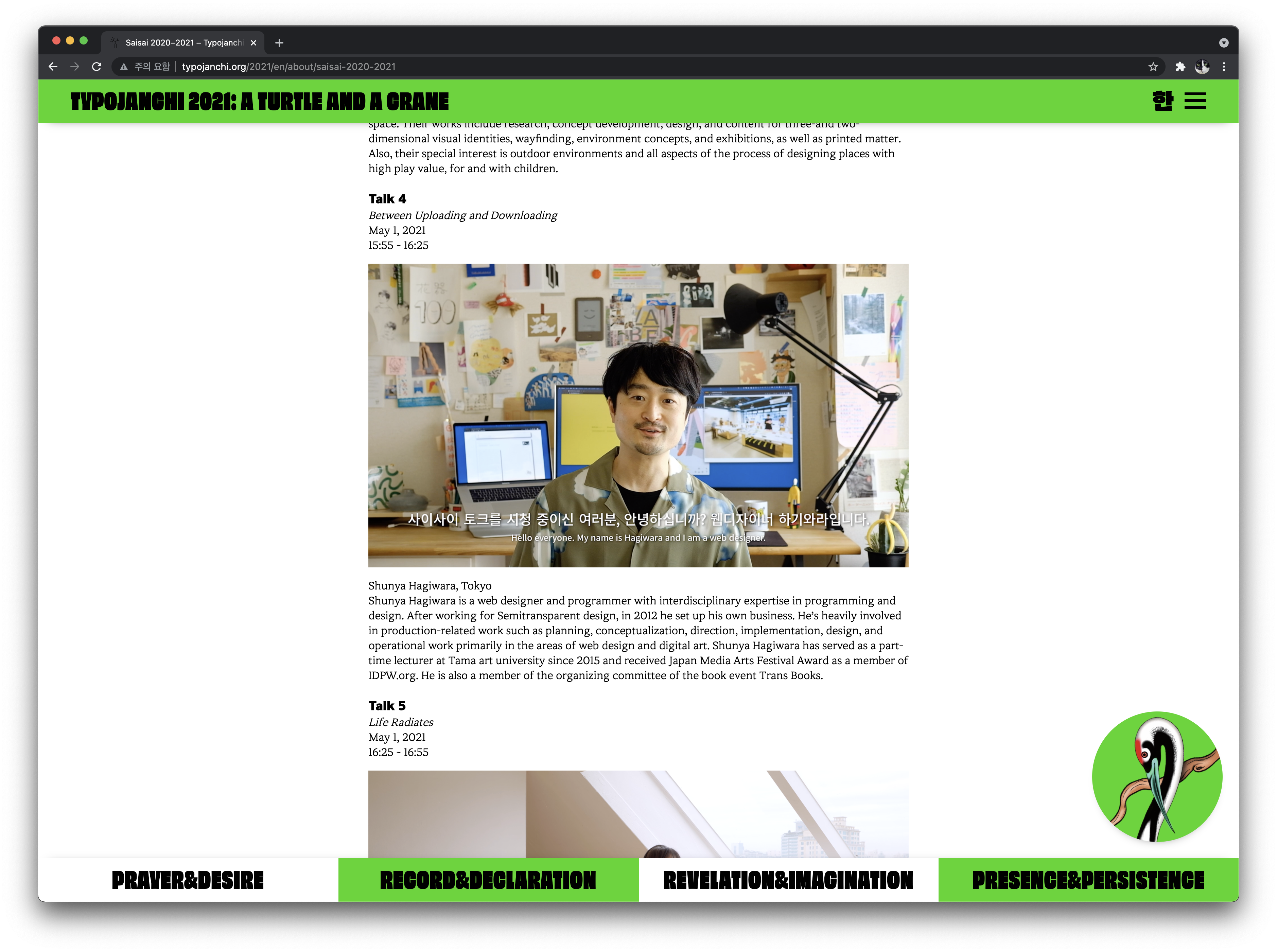 ---