Typojanchi saisai 2020: Workshop
Poster

Typojanchi
saisai
(hereafter
saisai
) 2020–2021 is an event in advance to explore its themes and present expectancy and possibilities prior to the main event,
Typojanchi 2021
. It consists of diverse channels such as talks, workshops, and exhibitions at the discretion of the director.
saisai
this time had workshops on 14–22 December 2020 and a talk on 1 May 2021. The theme 'Typography (文字) and Life (生命)' decided by the International Typography Biennale organizing committee seems to imply the timeliness of the current pandemic to some degree. To present the theme, however, I did not want to deliver any serious message or give guidance to viewers tired of extended social distancing. I did not even have a detailed plan for expressing the theme. Therefore, this
saisai
had to be considered as a chance to sketch out how far and in what direction the theme could be expanded beyond a sneak peek or preview. The
saisai
2020: Workshop and the
saisai 2021: Talk
are the results of attempting to search for diverse possibilities that can be expressed with the combined two words of typography and life.
Director: Jaemin Lee
Planning & Management: Jaemin Lee / Eerang Park / Hyojoon Jo
Project Manager: Hyejin Jin
Coordinator: Yelin Yi
Scenography: Marcsosa (Byungguk Kim, Kyungmoon Min)

---
Art direction: Jaemin Lee
Illustration: Hongmin Lee
Graphic design: Typojanchi 2021 team
Client: KCDF (Korea Craft & Design Foundation)
Year: December, 2020
The
saisai
2020: Workshop boldly started with
Jeonghyo
's
Letters Brought to Life—Life.js
to make 'life on digital space' through text-based programming, it did not deal with traditional typography or visual design. It was followed by
Just Project
's
Reviving再生 Letters—My Face, My Use
that revives obsolete letters to develop ones with totally different uses or functions and;
Hezin O
's
Mutated變異 Letters—Mutation
in which participants make drawing tools through arbitrary aesthetic sense and work on drawings under certain conditions. Considering COVID-19 prevention, the events were carried out six times on a very small scale with 7–15 people. I wanted participants to enjoy the process rather than the result and imagine and explore letters and life together.
Some may have found saisai 2020–2021 somewhat confusing this time as it stressed stories with keywords such as millennials, environmental issues, the Internet, media art, and living things, rather than dealing with letters and traditional methodology. Typography is a tool and methodology generally used by graphic designers. As the term janchi means a party, Typojanchi is naturally considered as a 'typography feast' and it also tends to be perceived as a feast that graphic designers organize and enjoy themselves at. Typographic activities are to beautify and make letters and information more legible on mobile messengers or email, and everyone is doing this in their own way—designers as well as non-designers. Today it is undeniable that new factors have come to be frequently used in this process, such as emojis and animations, which can be regarded as part of typography. I did not want to restrict the scope of visitors to this feast to graphic or typeface designers only, and supposed that it would need to reflect the broadening horizons of Typojanchi.

The posters and screens of this saisai feature stuff that looks like disassembled or recombined bodies. A subject matter like 'bone and flesh' symbolically displays typographic notions even though it does not directly handle types or layout. I wished to share that idea through the poster series that headline drawings, not letters, stirring the imagination; web pages for event information and registration; and many different designs on the video screen as well.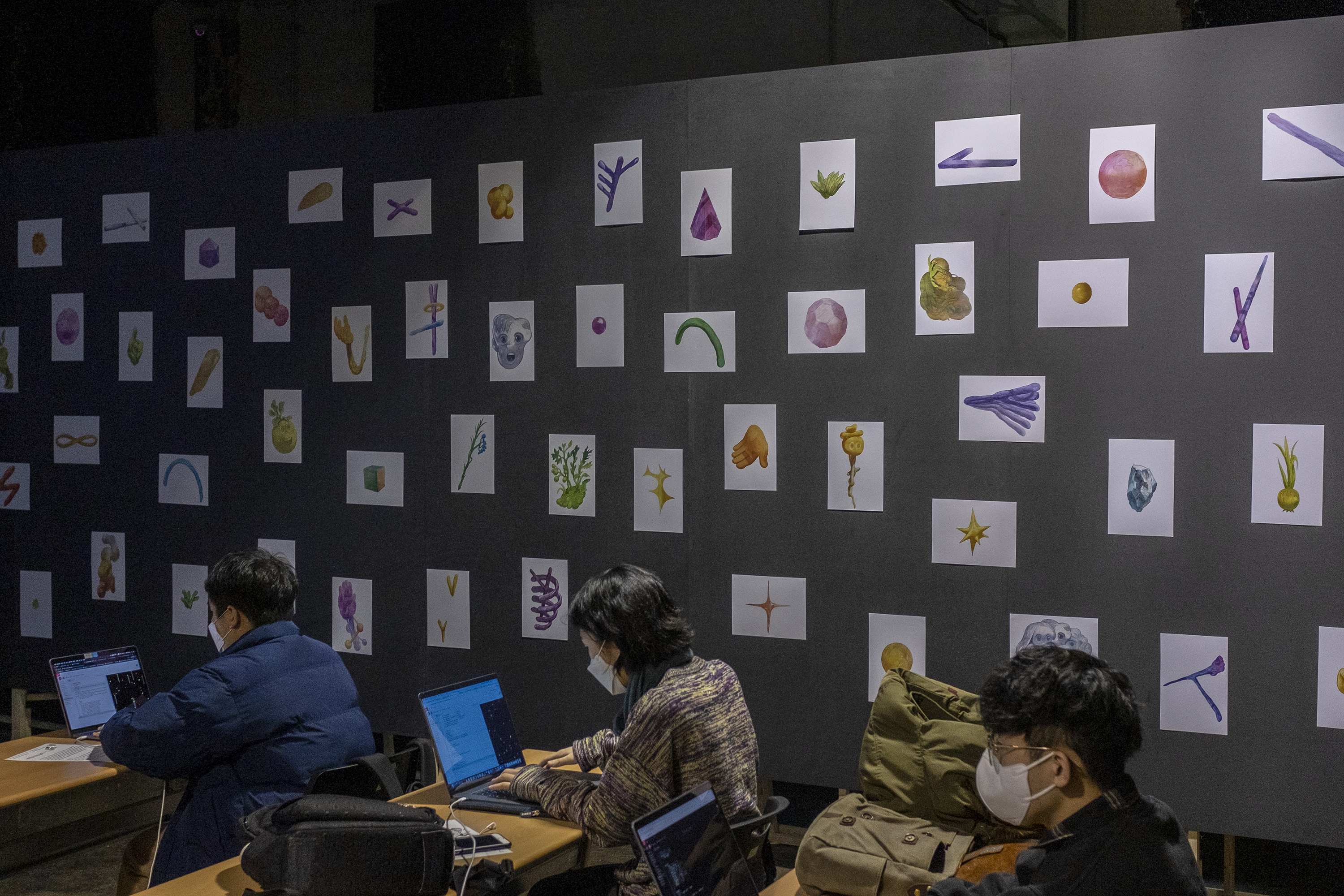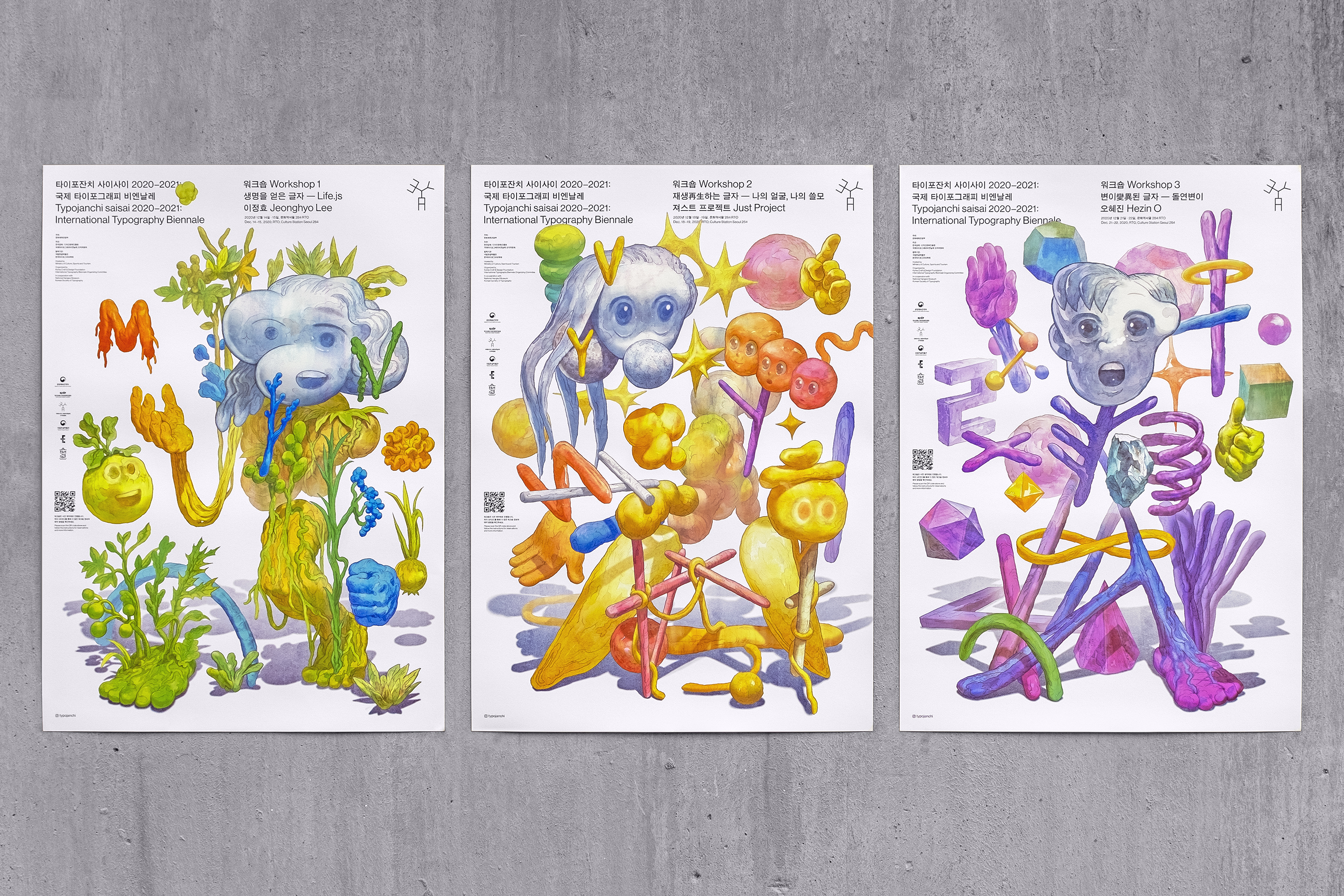 Workshop 1
Letters Brought to Life, Life.js
Jeonghyo
December 14–15, 2020
Culture Station Seoul 284 RTO

Workshop 2
Reviving再生 Letters, My Face, My Use
Just Project
December 18–19, 2020
Culture Station Seoul 284 RTO

Workshop 3
Mutated變異 Letters, Mutation
Hezin O
December 21–22, 2020
Culture Station Seoul 284 RTO

---